With the power of Miva shopping cart software and over 10 years of experience developing, managing and hosting. Our commerce solutions give you the flexibility to add features that fit your specific business needs.

Companies like yours are now looking to the next opportunity where they can lower costs and grow revenues - sales and marketing. Most have invested in initiatives such as shopping cart systems, hosting, accounting and other services that just don't seem to work. Now's the time to take full control and get pointed in the right direction. Together we can build a on-line presence that will allow you to obtain the maximum potential from your efforts.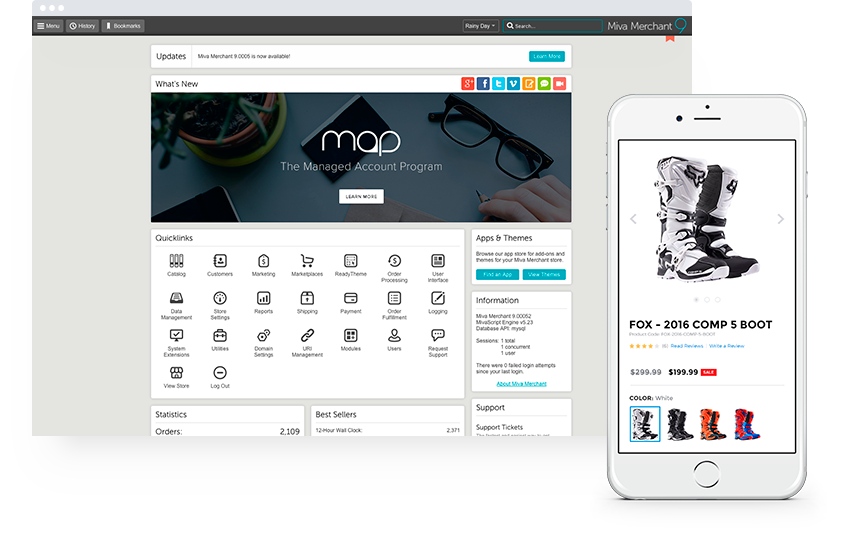 Design

Complete flexibility over the design of your site. Take full control over the shopping interface.

Shipping Rates

Real-time shipping rates with UPS, FEDEX, and USPS integrations for simple management of shipping rules, labels and tracking for your customers.

Credit Cards

Online credit card processing is a critical part of completing the sale. Integration with all the major payment gateways and optional payment methods through Google Checkout, PayPal and Amazon.

Sales Tax

You are required to collect tax in the state your business operates in. We provide the ability to calculate your sales tax by a flat rate or for those business that have taxes calculated by counties, we provide automated calculations by zip code.

Security

Security that meets PCI compliance with our PCI compliant eCommerce hosting and 256-bit SSL encryption to keep you and your customers safe.

Search Engine Optimization

Every website now includes SEO optimization configured in your store. Through dynamically updated site maps to custom XML data feeds to Google.

Product Catalog

Whether you have ten or thousands of products you have the ability to easily create and manage thousands of products in your store. New tools are available that allow you to now manage unlimited amount of product images easily. New sort tools allow you to move product within your store with ease.

Social Media

Let your customers promote your site through Facebook and Twitter with our custom "Socializing" of your product catalog.

Coupons and Gift Certificates

Give your customers more opportunities to take advantage of promotions and ways to pay for their purchase.

Customer Management

Customers can easily manage their account, view previous orders, track shipments and easily reorder.

Order Management

Take control over creating, editing and managing orders. You have 100% control over orders, even after they have been placed.

Order Tracking

Order tracking is now completely integrated into the administrator interface.